We're thrilled to share that Sim Kern's DEPART, DEPART! is on the Otherwise Award (formerly the Tiptree Award) Honor List with many incredible books and stories. Congrats to Oghenechovwe Donald Ekpeki on his Otherwise win for "Ife-Iyoku, the Tale of Imadeyunuagbon" a novella included in the Dominion: An Anthology of Speculative Fiction from Africa and the African Diaspora anthology (which we reviewed here).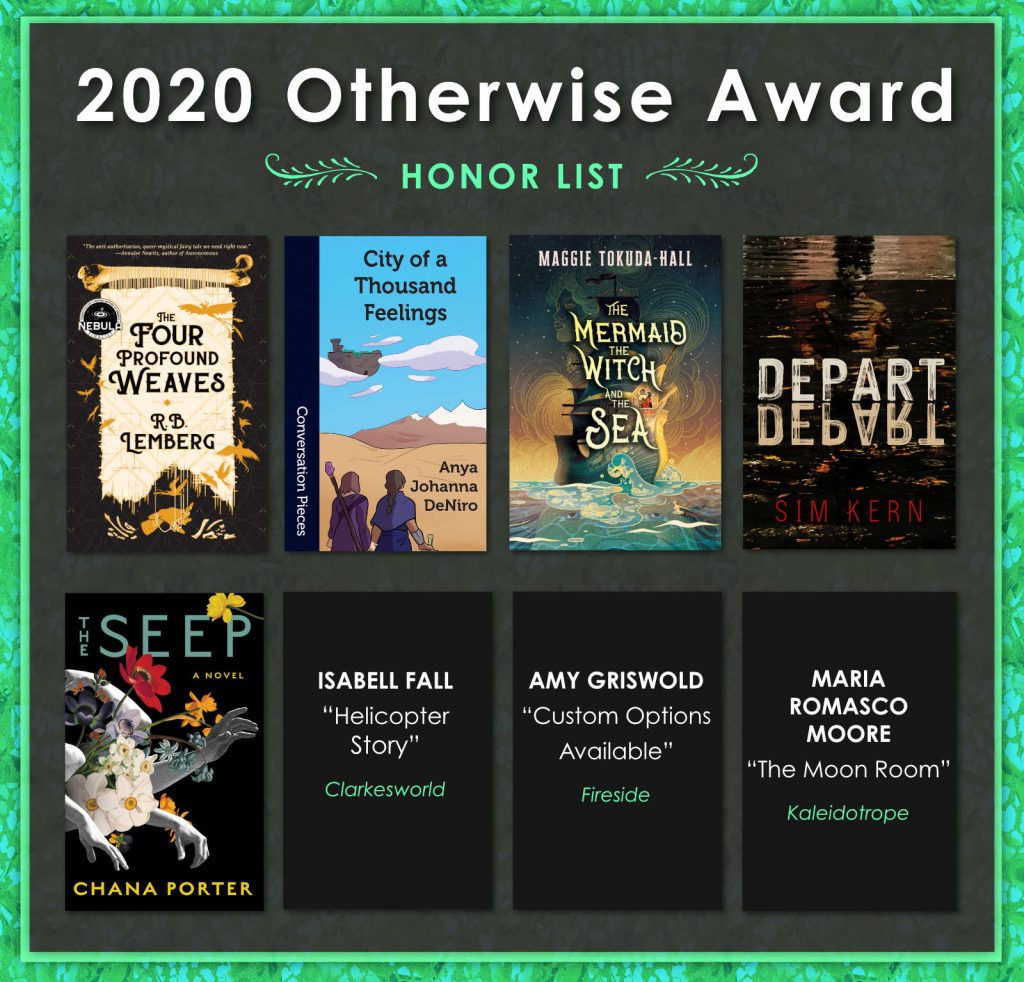 The Otherwise Award Honor List
The Otherwise Award Honor List is a great place to find pioneering works of speculative fiction addressing gender issues. Be sure to check out the following titles:
R.B. Lemberg, The Four Profound Weaves
Anya Johanna DeNiro, City of a Thousand Feelings
Maggie Tokuda-Hall, The Mermaid, the Witch, and the Sea
Sim Kern, Depart, Depart!
Chana Porter, The Seep
Isabel Fall, "Helicopter Story"
Amy Griswold, "Custom Options Available"
Maria Romasco Moore, "The Moon Room"
Read more about the Otherwise Award winner and Honor List on the Otherwise Award site.
Award Nominations for both 2020 Titles
We were especially thrilled to learn of DEPART, DEPART!'s finalist status for the Otherwise Award because this means that both our 2020 titles are now award nominated. In March we announced that Michael J. DeLuca's NIGHT ROLL was a Crawford Award Finalist. As a new small press, it is absolutely indicative of the quality and importance of these stories, as well as the work we put into our titles, that they have both been recognized by important awards in speculative fiction.