Submissions Are Currently Open
This submission period is open from September 1 to December 31 2023.
We are looking especially for queries from BIPOC authors for novellas, novels, short story collections, or short speculative non-fiction (such as memoir, graphic essays with speculative elements). Novellas and short novels for adults are our priority, but we are open to queries for other projects. We are a Canadian press prioritizing BIPOC authors living in Canada/Turtle Island. Authors identifying as BIPOC, LGBTQ2S, and/or disabled are especially encouraged to query.
Read below for more information on the kinds of stories we are looking for during the 2023 Open Submission period.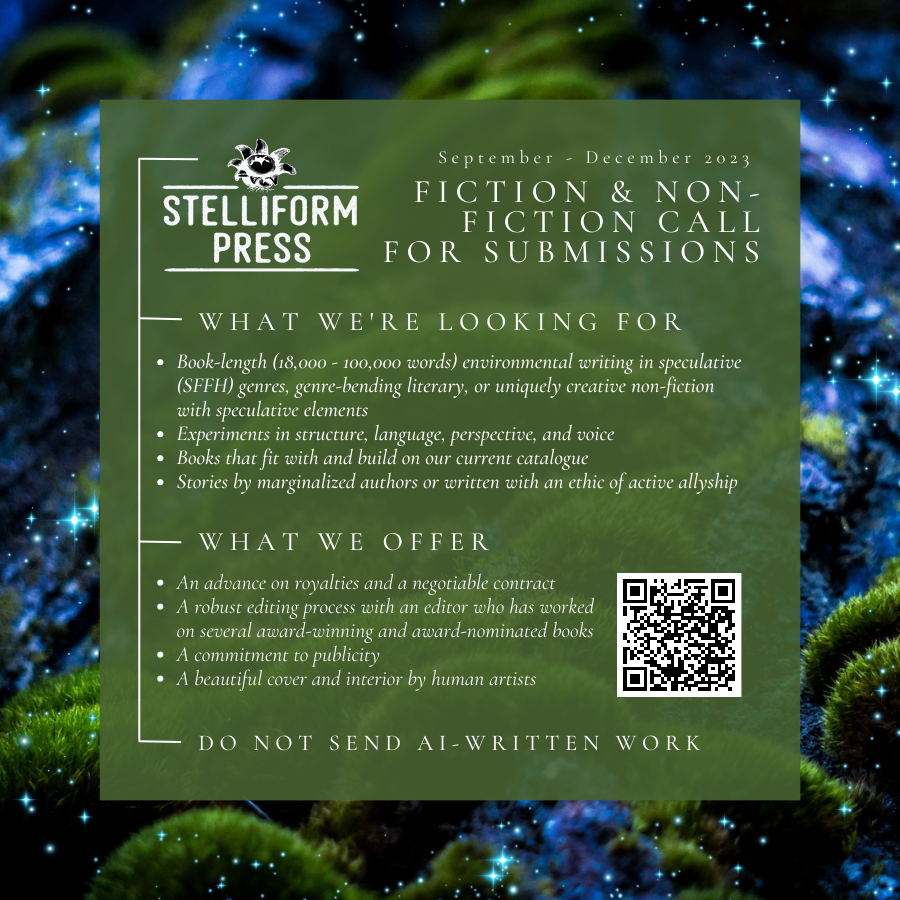 What is a Stelliform story?
We are seeking to publish science fiction, fantasy, quiet horror and literary works with speculative elements, such as novellas (17,500–39,999 words), novels (60,000–100,000 words), and short story collections and non-fiction books/collections (40,000–60,000 words) which build narratives around climate change and its resultant ecological destruction, and acknowledges the work necessary to live within the problems Western lifestyles have created. All manuscripts submitted must have a science fictional or fantastic element; non-fiction must be speculative. Narratives should be interrelational, demonstrating some ways in which the environment changes us (and others) just as we change it. Please see our About the Press page and our blog for more information.
How much do we pay?
Currently, we pay a 2¢ CAD per word advance (up to $2000), plus royalties. Previously published stories included in short story collections will be paid 1¢ CAD per word. These rates are in line with other small Canadian publishers. As a new press, we are working on securing grants and planning fundraising campaigns in order to increase these rates in the future.
What rights are we buying?
Currently we are buying first world English electronic and print rights. As we grow, we will also consider audiobook rights. Our contract includes clauses for rights reversion should the author and/or publisher wish to terminate their relationship.
Manuscript Wish List
The following are some approaches we would love to see in our Inbox:
Fiction MSWL
Specific Stories We'd Love to See:
Stories addressing the intersections of homelessness and climate change
Stories addressing the intersections of migration and climate change
Stories told from non-human perspectives that fully considers the non-human and its position in the world
Speculative romance that challenges romance tropes that are not compatible with climate justice
YA that focuses on local environmental issues rather than world-ending dystopias
General Ideas We Love:
Stories written by Indigenous authors which bring Indigenous and Western science into conversation (even if the conversation is difficult and unresolved).
Stories written by BIPOC authors which fuse specific cultures and/or ways of life rooted to a specific community with a means of ameliorating or coping with life in a climate changed world.
Stories written by trans and queer authors which fuse specific ways of life rooted to a specific community with a means of ameliorating or coping with life in a climate changed world.
Stories that embrace the incorporation of far-flung technologies as part of an ecologically relational life; technology CAN be bad, but it can't be ONLY bad.
Stories which explore nonviolence while acknowledging the privilege inherent in the nonviolent position; stories which explore unusual ways to mitigate violence; stories of active and creative protest against fossil fuels and other threats to the environment.
Stories set in space that are connected to Earth through myths or legends that tangibly affect the lives of the interstellar characters.
Stories depicting humans learning to relate to the non-human in different ways.
Stories taking place in non-Western settings.
Fiction Do Not Submits
Stories written by any generative AI. Attempting to submit AI-generated stories is considered plagiarism and can result in a ban from future submission.
Stories in which the solutions presented are uncritical green consumerism
Stories depicting monarchies, imperialism, or colonization in an uncritical way
Gratuitous violence, especially against any marginalized group
Gore in general is not something we're excited about, but small doses that are integral to plot/character might be okay
Porn or erotica; though eroticism in service to the story is definitely okay
Picture books or Middle Grade novels. This may change in the future. Currently we are only interested in YA that straddles New Adult/Adult territory.
First books in a series that do not work as standalone, especially from authors we've not worked with before.
Non-Fiction MSWL
Speculative non-fictions about the future of tech, the environment, global relationships, or social worlds (either collections of linked short pieces or extended meditations).
Literary journalism on emerging tech, global health issues, climate change and migration, food politics, human-hybrid environments, global and space travel—journalism that hangs on a narrative arc, focusing on limited centered characters.
Essay collections (single authored) or themed anthologies (editor(s) + multiple authors) approaching questions about technological and environmental futurity, urban life, the non-human, community, and other themes of the press, addressed from primarily personal lenses.
Creative memoirs or autobiographies drawing from long-term experiential relationships with the natural world, space, tech and agricultural industries, and the non-human, that offer new/unique ways of reflecting on the problems of climate change and/or the future of life—especially by BIPOC, women, trans and queer, and disabled or otherwise underrepresented authors.
Narrative 'biographies' of plants, animals, places/niches/communities, and natural phenomena that connect the past, the rapidly changing present, and the future—particularly works that de-centre humans or think about the human in specifically collaborative ways.
Human biographies and histories reimagined through non-human protagonists.
Imaginary, alternative, or potential histories.
Non-fiction Do Not Submits
Adventure biographies that frame the environment uncritically as a "wilderness" to be "tamed" or "discovered"
Literary journalism of technology, food, or space industries uncritically structured around the idea of progress
How to Submit
For Novellas and Novels
Please send a short cover letter which includes:
not more than 250 words
information about your manuscript length and genre
a brief statement about your story's main conflict, how your story fits Stelliform's vision, and any MSWL elements included (if applicable)
a brief bio including your top three publications, if you have them. We publish many new authors so having few or no previous publications is not a problem if your work is strong.
Content Warnings, if applicable. This will help our readers make informed choices as to whether they are the best reader for your piece.
As attachments via the form, please include a 1-2 page synopsis detailing your book's plot points, and the first 15-20 pages of your manuscript. Please make sure the document does not include your name, contact information, and byline as we prefer to read submissions blind. When we open, you will be able to submit these documents via a google form, or if Google is blocked in your country, via email. Please use the Google form when at all possible. If Google is blocked for you, send query and sample pages to submissions@stelliform.press. The subject of your email should read: SUBMISSION: [Your manuscript title].
See Jane Friedman on writing a concise and effective synopsis and query letter.
For Short Story Collections
Please send the same query package as for novellas and novels, plus a table of contents with a one-sentence synopsis for each story. No longer synopsis is required for a short story collection submission. Please also note where each story was previously published or if it is original. We're looking for collections of mostly previously published material.
For Non-Fiction Manuscripts
Please send a short cover letter which includes:
not more than 250 words
information about your manuscript length and genre
a brief statement about your book's main ideas, how your story fits Stelliform's vision, and any MSWL elements included (if applicable)
a brief bio including your top three publications (if you have them)
any education or experience you have that makes you the right person to tell this story
For All Submissions: Please Remove Identifying Information
We like to do our initial reading without knowing any identifying information beforehand. Please ensure that your manuscript does not contain your name, pseudonym or any other identifying info before submitting.
For Cover Art
In general, our Publisher selects the artists she thinks are a good fit for each season's projects. But if you have looked at our current covers and think your work might be of interest, please submit a link to your online portfolio and a brief introductory letter including information about yourself, your published artworks, your expected rate of compensation for a book cover, and two references (preferably former clients). Letters can be submitted to submissions@stelliform.press with the email subject: ART SUBMISSION: [Your name].
We are particularly interested in art submissions from Canadians or immigrants to Canada from any marginalized community, or First Nations, Métis, or Inuit residing in territories currently occupied by the Canadian state.
Simultaneous and Multiple Submissions
Simultaneous submissions are allowed; but send only one submission at a time. Please let us know if your manuscript is accepted elsewhere.