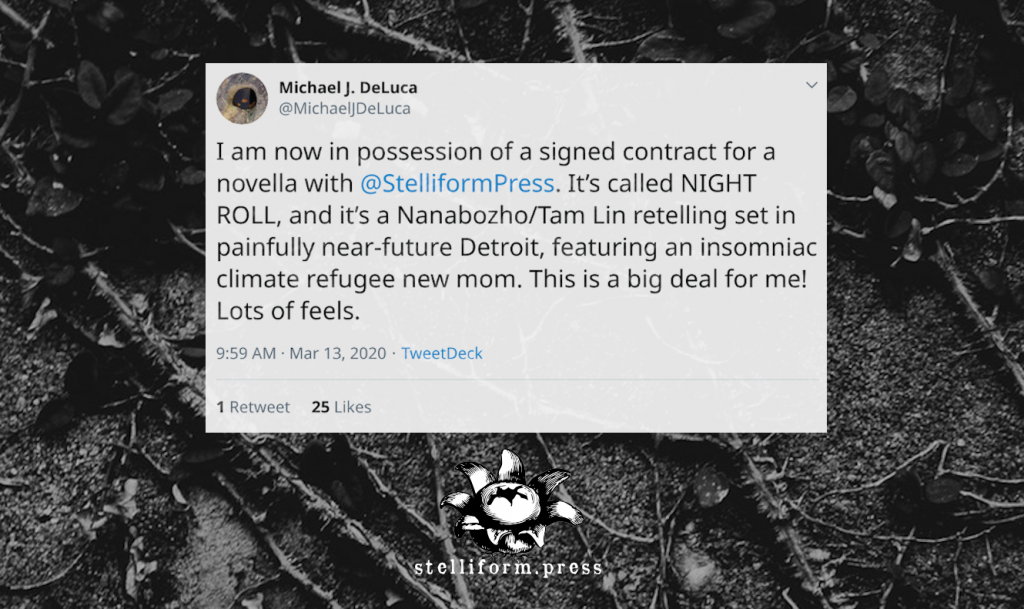 We are pleased to announce that Stelliform Press will be publishing Michael J. DeLuca's novella, Night Roll, later this year. DeLuca is the editor-in-chief of Reckoning Magazine (which we have reviewed here and here) as well as an author of short stories published in Beneath Ceaseless Skies, Apex, Mythic Delirium, and many other places.
In Night Roll, new mother and climate refugee Aileen Dupree has been abandoned by her partner in post-industrial Detroit. Her neighbor, Virgil, comes to her rescue, bringing useful cast-offs and much needed friendship. Virgil is Aileen's only connection to the outside world, a refuge for an insomniac newcomer who is overwhelmed by the turn her life has taken.
But then Virgil borrows Aileen's prized possession—a chrome and leather royal blue fourteen-speed bike—and disappears. Aileen doesn't know if Virgil's disappearance is an accident or another abandonment.
When she ventures out to look for answers, Aileen finds friendship and support in a vibrant community she didn't expect, surrounding a mysterious figure, the Elf: a timeless being who has always fought the colonizers and capitalists of Detroit, and who now leads Night Roll, a wild race through the city's disintegrating streets.
It is up to Aileen to bring Virgil back to his friends and family. But what can the Elf teach her about her new life? And what must she pay for that knowledge?
Follow us on Twitter, Facebook, or Instagram for updates on Night Roll. In the coming months we will have a cover reveal, author interviews, and giveaways. If you are a reviewer of climate change related titles, contact us for an ARC.