Stories We Love
Osahon Ize-Iyamu's "More Sea Than Tar" in Reckoning 3 is about a Nigerian family struggling against the currents of modern life in a flooded and disintegrating town. The main character, Uti, must navigate opposing family dynamics in order to find his own way of living in a new world.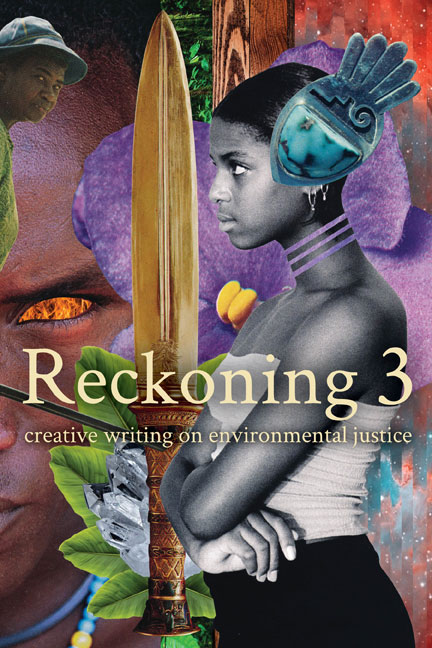 Uti's father provides the main source of tension, which appears from the first lines of the story. Uti relates that his father is tired of being hampered by the constant presence of flood waters, that he wants to go out in his canoe and "be above the water" so that they all can be "finally in control of [their] bodies." What Uti soon learns is that his father believes that leaving their flooded community for the "open sea" of other towns or cities is not only an "adventure" but a way of reconnecting with society that he feels has left them behind.
Joseph, Uti's brother, is sceptical of their father's plans to integrate into a more materially prosperous future. But Joseph is invested in technological means of advancement and adaptation. Specifically, Joseph is excited about how technology like "oxygen suits" and "decontamination pods" can improve their lifestyles, given that the flood waters seem unlikely to abate.
Perhaps with feeling similar to Uti's death-obsession, Uti's mother often confines herself to her room. She refuses to respond to her husband's ideas. When the three men of the household are heading out in the canoe, Uti's mother provides them with coats, boots, and umbrellas — the tools they need to survive the burgeoning waters, but which are insufficient. In the course of the story, two more essential tools appear: Uti trades his umbrella for a spoon, and Uti's father acquires a gun.
These two tools — the spoon and the gun — signal the story's resolution long before its end. This review will not further expand upon the course of events triggered by the gun. The spoon, however, provides a subtle resonance whenever it appears. It is significant that Uti rejects the practical umbrella for a spoon that seems to have no place in his adventures with his father and brother. But the spoon provides comfort when the "adventure" intensifies; Uti caresses the round edges of the spoon in moments of insecurity.
The spoon, ultimately, serves a similar purpose to the gun, but the intended use of the tool is not lost. When Uti returns home at the end of the story, it is a return to the comfort and nourishment of the home. Even when that home is falling apart. It is also a return that requires the resourcefulness and adaptability that the spoon signifies. Osahon Ize-Iyamu's "More Sea Than Tar" suggests, then, that there is no single path to flourishing in a climate changed world. We cannot depend on isolationism, technological fixes, or even boldness. We must measure these things out with equal portions of comfort and community connection. In this way we make a home of imperfect environments.