Hi Newsletter Subscriber,
Sarena Ulibarri's debut solarpunk novella came out on May 25 and is now available wherever books are sold, including directly from our website where we have discounted ebooks. Tomorrow we will celebrate the launch of this optimistic and nuanced novella with an online launch party.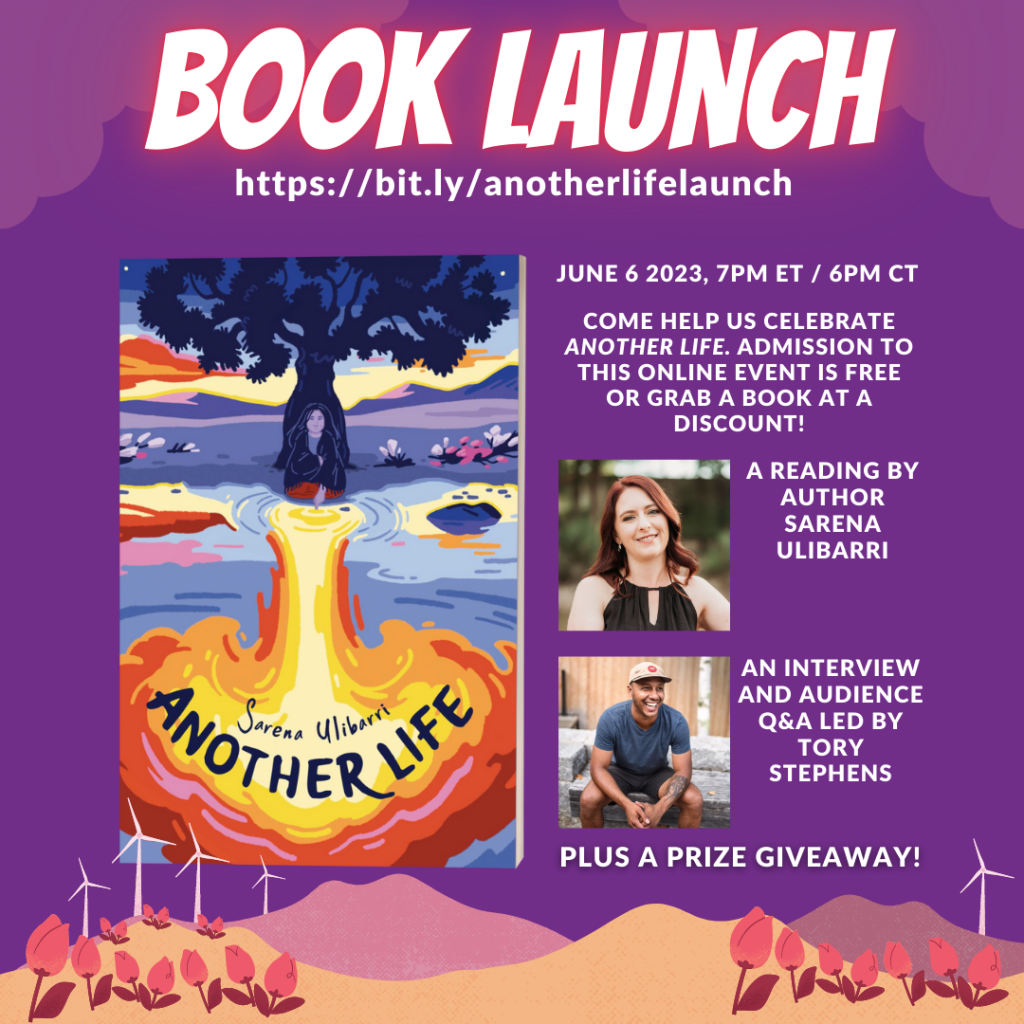 Come hear Sarena Ulibarri read from Another Life, talk about her experience of writing the novella, and discuss her involvement in solarpunk and other aspects of the solarpunk community. An interview and Q&A will be led by Tory Stephens, Grist's Climate Fiction Creative Manager, currently running the Imagine 2200 Climate Fiction Writing Contest.
Grab your free tickets by clicking the graphic above or the link below. Discounted books are also available at these links.
---
Happy Pride and Indigenous History Month!
In Canada it is both Pride Month and Indigenous History Month. In support of our LGBTQ2S+ and Indigenous authors, and the wider LGBTQ2S+ community, we are holding a book sale for the month of June. 20% of our net sales will go to support 2spirits.org, a charity that provides support and programming for Two Spirit individuals in the Greater Toronto Area.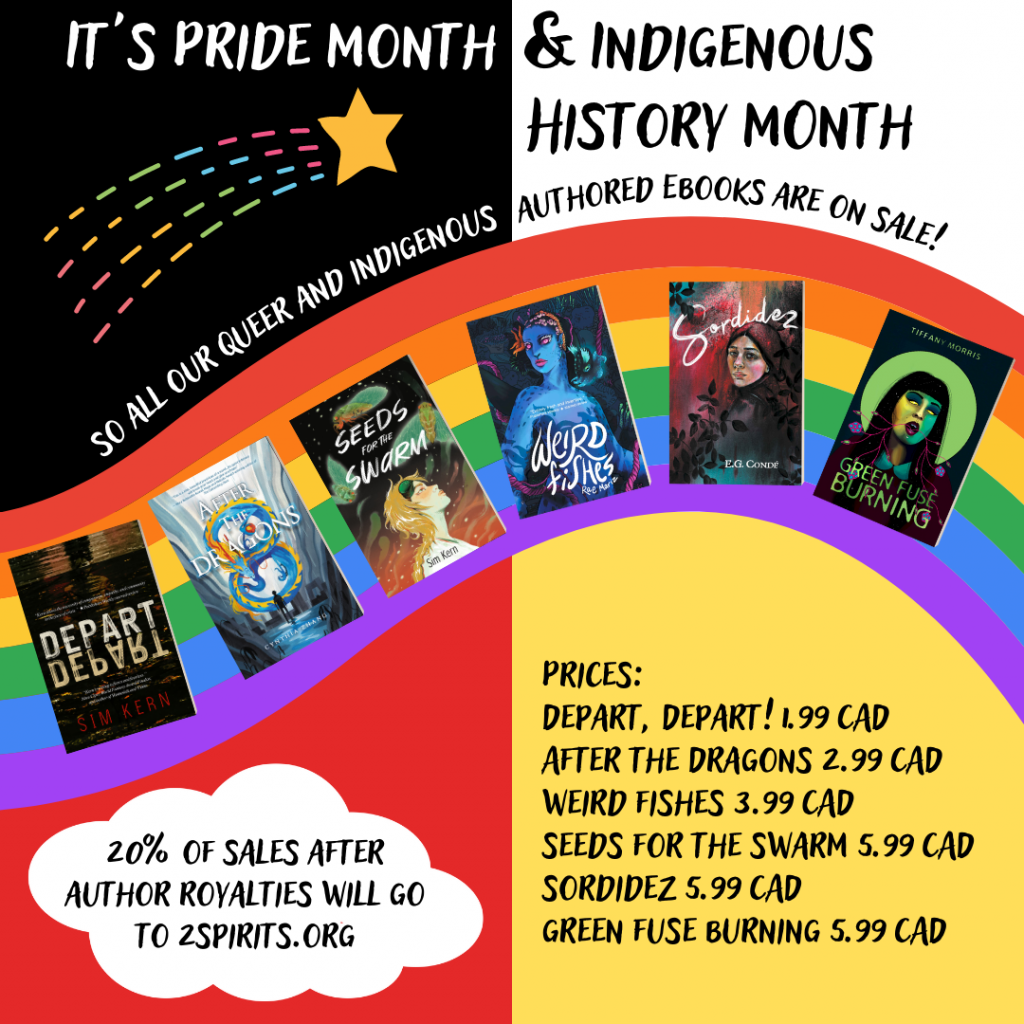 If you've been waiting to grab one of these fabulous books, now is a great time. Your money will go to support three great causes: queer and Indigenous creatives, Two Spirit community support, and a climate and environment focused small press.
---
E.G. Condé's Sordidez gets a starred review from Publishers Weekly and is chosen as a Fall 2023 Science Fiction, Fantasy, and Horror Top 10 Book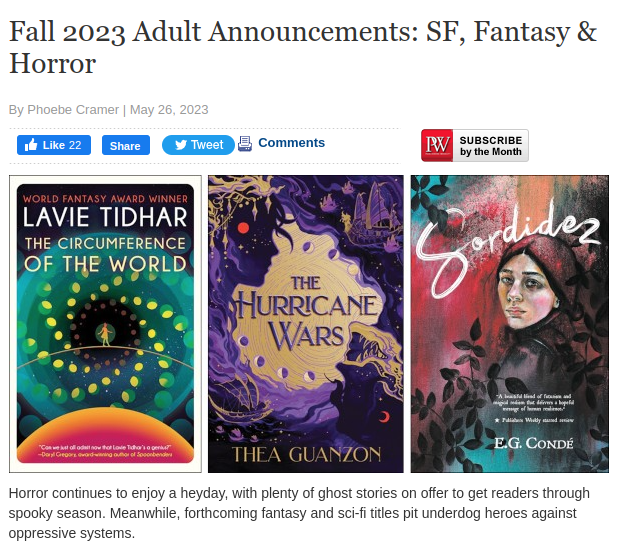 If you missed our excited screaming over the last week, E.G. Condé's debut queer Latine/Tainofuturist novella Sordidez got some well-deserved recognition when it received a starred review from Publishers Weekly that called the book "brutal, mystical, and deeply felt." They also included the book in their Top 10 science fiction, fantasy, and horror books to read for fall. Check out that list here. The list also includes Stelliform author Sim Kern with their forthcoming novel from publisher Levine Querido, The Free People's Village. Climate fiction represent!
---
Thank you, Toronto! Plus an Open Submission Call
Finally, I wanted to send a quick note of appreciation to all of you who joined us at Toronto's Word on the Street. The event is always exciting and one of the highlights of our year as we get to talk to so many of you about our new books and about the press in general.
This year we were especially excited to announce our upcoming open submission call. If you are a writer or know writers who are working on climate or environment focused book projects, please keep us in mind for the fall. We will be open from September to December 2023. Our priorities this year are:
Canadian or permanent resident authors and Global South authors (or members of global majority diasporic communities).
Short book projects. Novellas (17k-40k words) and short novels or collections (~60k) are our sweet spot but we're open to anything up to 100k.
Check out our flyer below or our submissions page for more information.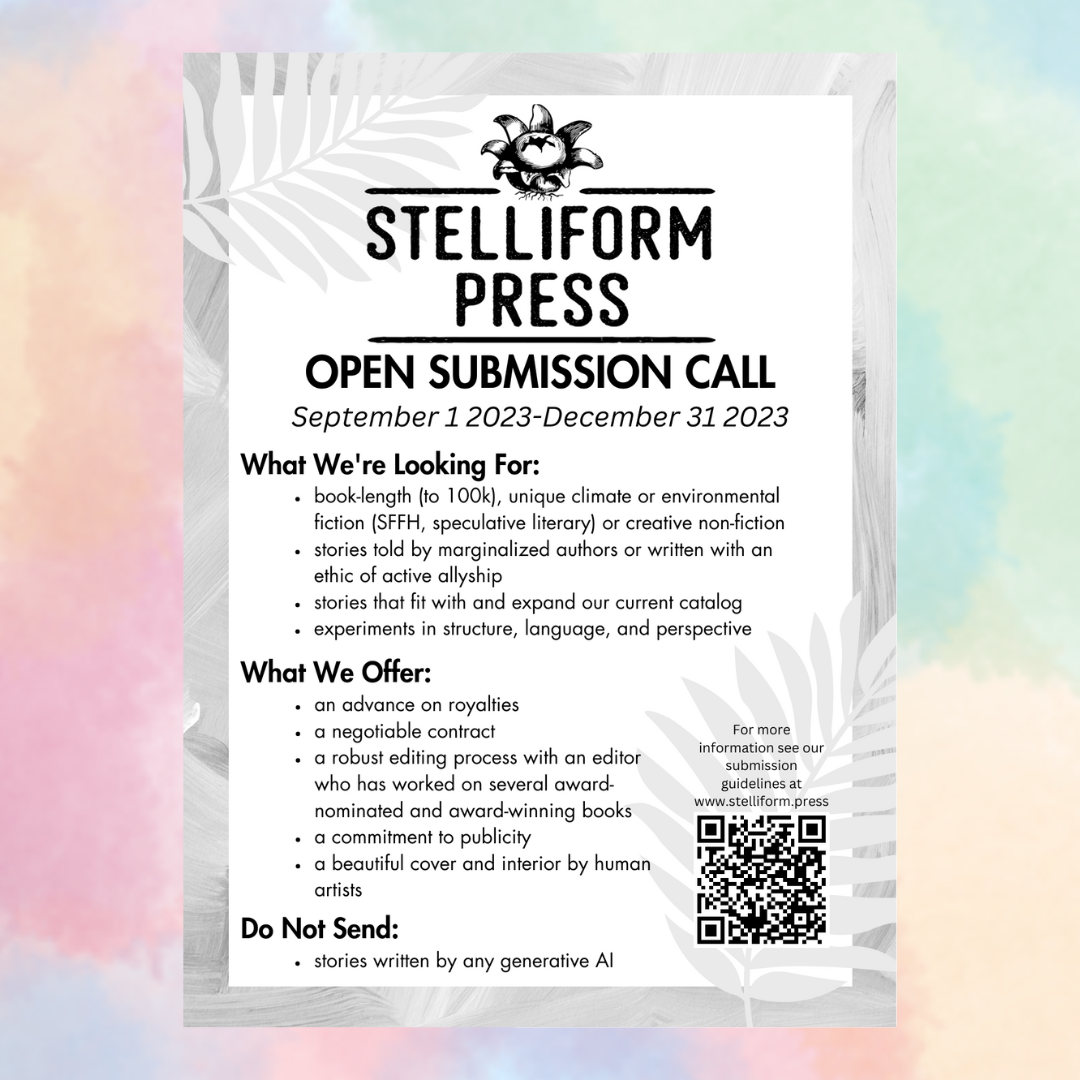 Please share our Open Call flyer widely. We've posted a graphic to Twitter, Instagram, Facebook, and Mastodon for easy sharing.
Thanks to all of you who have been such a warm and welcoming support of a small press. We're excited to start our search for more unique perspectives and creative experiments to bring to readers in the years to come! And we hope to see you at the book launch tomorrow!
Selena @ Stelliform
---
Newsletter Quicklinks