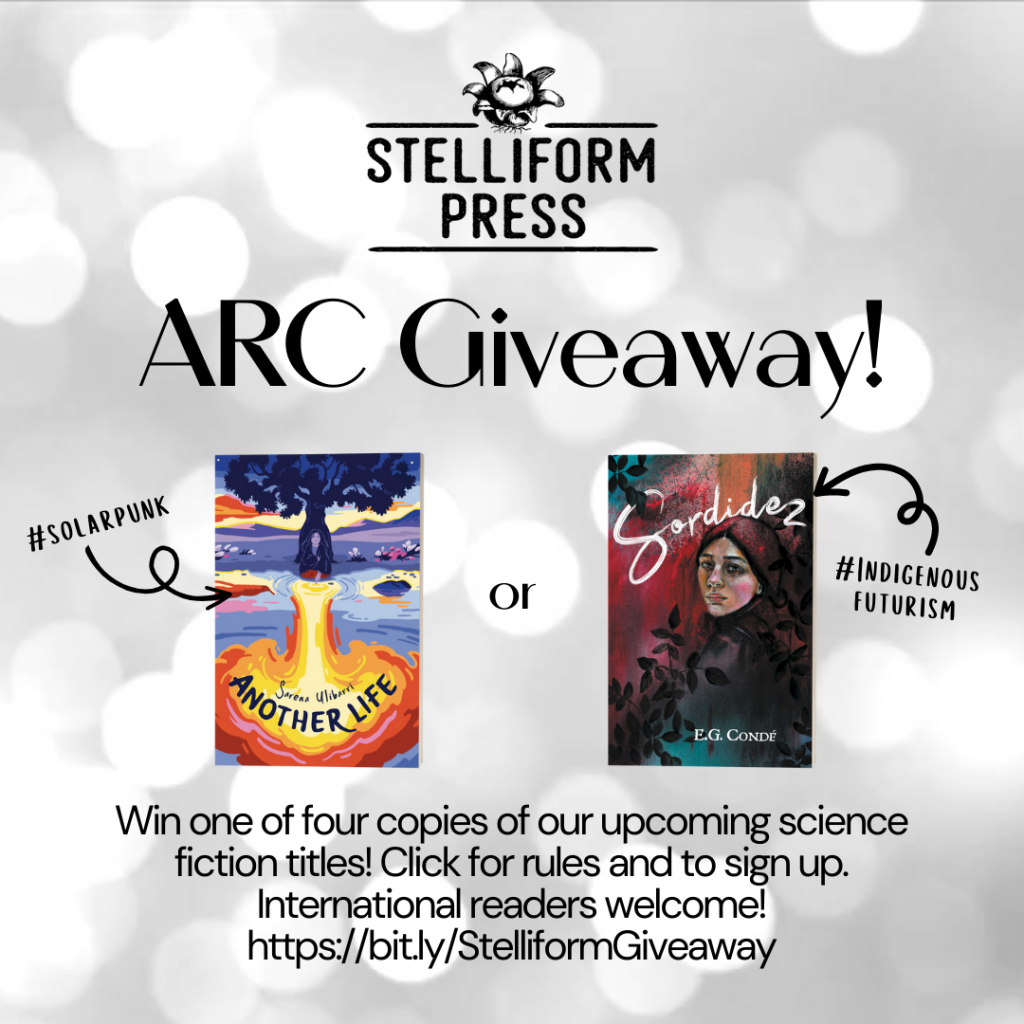 We're giving away four copies of our upcoming science fiction titles. We have two copies of Sarena Ulibarri's ANOTHER LIFE and two copies of E.G. Condé's SORDIDEZ to mail to readers worldwide.
How do I enter the giveaway?
Click through to our google form to enter the giveaway contest.
Like most giveaways, you can enter by completing any of the tasks listed below and using this form to provide proof that you have completed them. The form will accept any number of entries, so you are able to share about the books on social media over the week and record your posts. The contest will close Wednesday April 26 and winners will be announced on Friday April 28. This contest runs in EDT (-4 UTC). At the end of the contest we will draw 4 names from the list and contact via the email provided. Please submit an email you check as we will move on to another name on the list if you don't respond within 2 days.
Which book do I want?
Are you looking for bright, optimistic science fiction? A clear vision of a better world? A hopeful society that doesn't discount the darkness of the past? Check out Sarena Ulibarri's Another Life.
Do you fall in love with lush prose and experimentation with language and structure? Do you have a LAND BACK pin on your backpack? Do you envision a future that has paid for the injustices of colonialism? Check out Sordidez by E.G. Condé.
You can choose one book to win, or sign up to win either.
I want to know more about these books!
Currently, review copies of both books are available free for download. Sarena Ulibarri's Another Life is on Book Sirens and E.G. Condé's Sordidez is on Netgalley until the end of the month.
You can also read more about the books and what early readers have to say at the links below:
We're excited about our upcoming titles and want you to read them and be excited too! Small presses need reader engagement and excitement to build buzz around their titles. Thank you to all who sign up and help us spread the word about our books. ♥