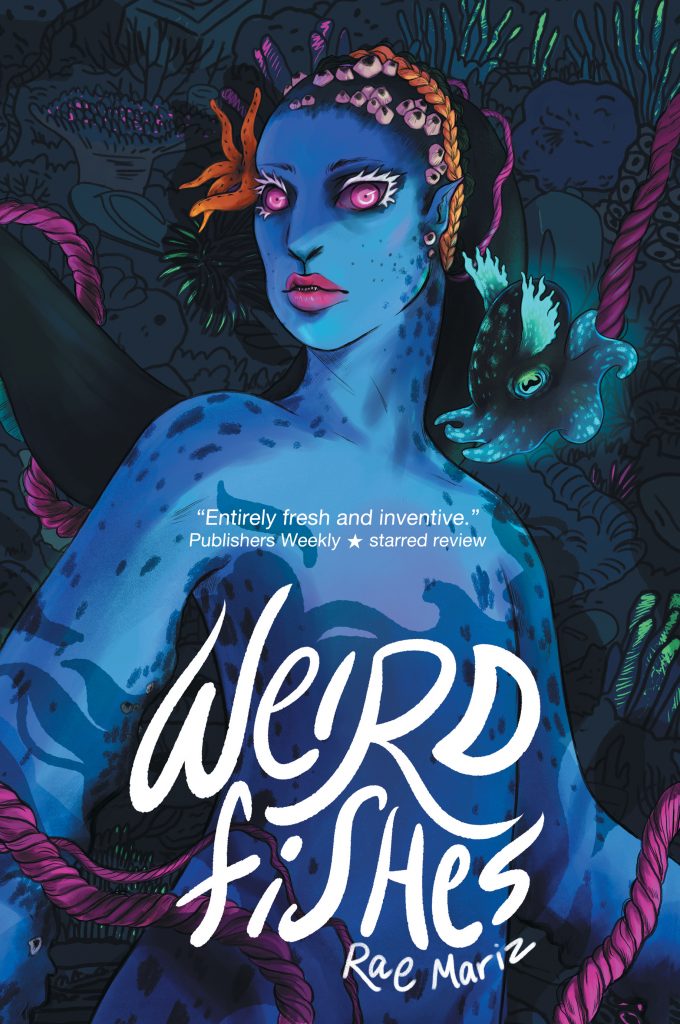 The publication date for Rae Mariz's mind-bending underwater fantasy novella Weird Fishes is coming up fast. Our print copies, printed on recycled paper, are on their way and we've got a few review copies to give away. Get in on our Rafflecopter giveaway by signing up for our newsletter, sharing the news about Weird Fishes, or any of the other sign up options through Rafflecopter. If you're already excited about the book and want to skip down to the giveaway, scroll to the bottom of this post. If you need more info about the book and its author, and the fantastic reviews it's gotten already, read on!
What are Readers Saying about Weird Fishes?
Publishers Weekly gave Weird Fishes a starred review:
"Mariz combines dense, realistic science with lush, fantastic description … The relationships at the heart of this tale manage to be both completely human and utterly unbeholden to the above-water dynamics readers might take for granted. The resulting novella feels entirely fresh and inventive. Fans of Caitlin Starling and Maggie Tokuda-Hall will be especially wowed."
Julia Rios, the creator of Mermaids Monthly magazine, loved the book:
"Weird Fishes is a vibrant, beautiful exploration of oceans teeming with lives and cultures unknown to humans. This book is a must for anyone who loves the sea!" 
Nina Munteanu, author of author of Water Is… and A Diary in the Age of Water was captivated by the novella's environmental message:
"Weird Fishes is a lyrical and heartfelt adventure that celebrates how the ocean connects us all and reminds us that we need to take good care of Her."
About the Book
AN UNDERWATER TALE OF FRIENDSHIP AGAINST MONSTROUS ODDS
When Ceph, a squid-like scientist, discovers proof of the ocean's slowing currents, she makes the dangerous ascent from her deep-sea civilization to the uncharted surface above. Out of her depths and helpless in her symbiotic mech suit, Ceph relies on Iliokai, a seal-folk storyteller, who sings the state of the sea and has seen evidence of clogged currents as she surfs the time gyres throughout the lonely blue. Navigating the perils of their damaged ocean environment, and seemingly insurmountable cultural differences, Ceph and Iliokai realize that the activities of terrestrial beings are slowing the spiralling currents of time. On a journey that connects future and past, the surface and the deep, the unlikely friends struggle to solve a problem so big it needs a leviathan solution.
About the Author
Rae Mariz is a speculative fiction storyteller and cultural critic. Her writing inhabits the ecotone between science fiction and fantasy, and features characters finding family with others who live in the gaps between. She's the author of The Unidentified and co-founder of Toxoplasma Press. Find her work at raemariz.com and on Twitter @raemariz.
Sign up to Win an Advance Review Copy with Rafflecopter