If you're nominating for the Hugo and Nebula Awards for 2020, consider Stelliform's first two novellas: DEPART, DEPART! by Sim Kern, and NIGHT ROLL by Michael J. DeLuca. Read more about these books and their reception below.
Depart, Depart! by Sim Kern
Category: Novella
Genre: Horror
Kern's novella received a starred review from Publisher's Weekly, which you can read here.
Novella Synopsis
When an unprecedented hurricane devastates the city of Houston, Noah Mishner finds shelter in the Dallas Mavericks' basketball arena. Though he finds community among other queer refugees, Noah fears his trans and Jewish identities put him at risk with certain "capital-T" Texans. His fears take form when he starts seeing visions of his great-grandfather Abe, who fled Nazi Germany as a boy. As the climate crisis intensifies and conditions in the shelter deteriorate, Abe's ghost grows more powerful. Ultimately, Noah must decide whether he can trust his ancestor — and whether he's willing to sacrifice his identity and community in order to survive.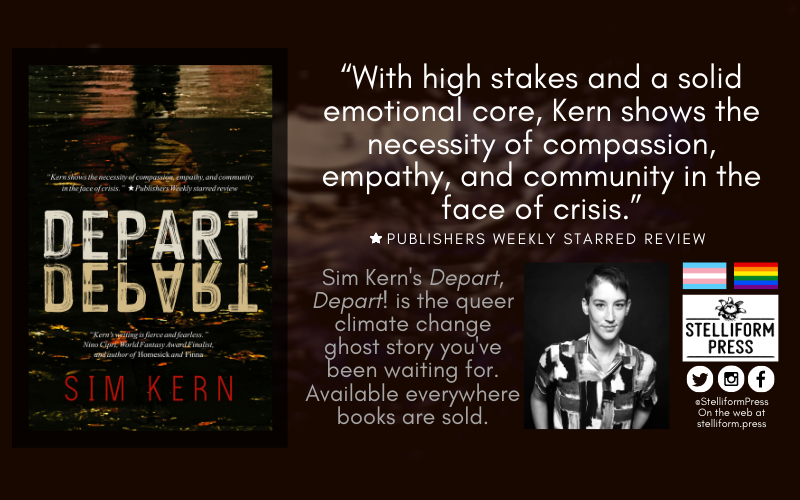 Night Roll by Michael J. DeLuca
Category: Novella
Genre: Fantasy
DeLuca's novella received a recommended book review from Locus Magazine, which you can read here.
Novella Synopsis
New mother and climate refugee Aileen Dupree has been abandoned by her partner in post-industrial Detroit. Her neighbor, Virgil, comes to her rescue, bringing useful cast-offs and much needed friendship. Virgil is Aileen's only connection to the outside world, a refuge for an insomniac newcomer who is overwhelmed by the turn her life has taken. But then Virgil borrows Aileen's prized possession — a chrome and leather, royal blue fourteen-speed bike — and disappears. Aileen doesn't know if Virgil's disappearance is an accident or another abandonment.
When she ventures out to look for answers, Aileen hears strange stories of the Elf, a timeless being that has always fought the colonizers and capitalists of Detroit, and now leads the Night Roll on a frantic race through the city's disintegrating streets. It is up to Aileen to bring Virgil back to his friends and family. But what can the Elf teach her about her new life? And what must she pay for that knowledge?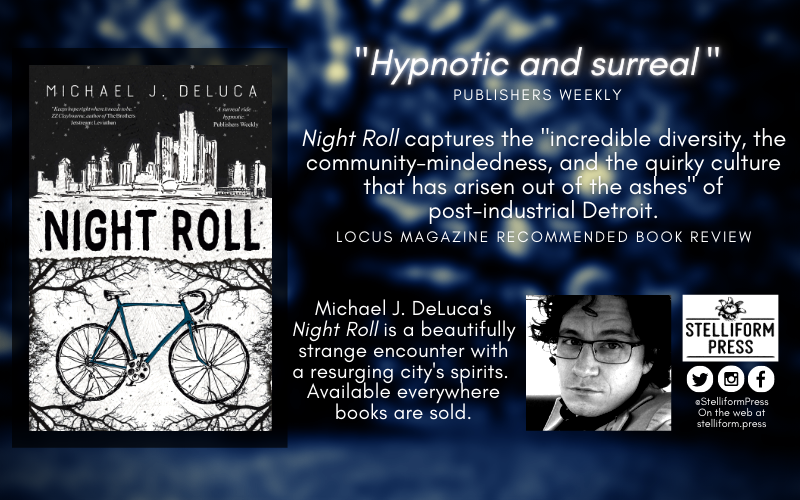 Both novellas are available for purchase here, or wherever books are sold.