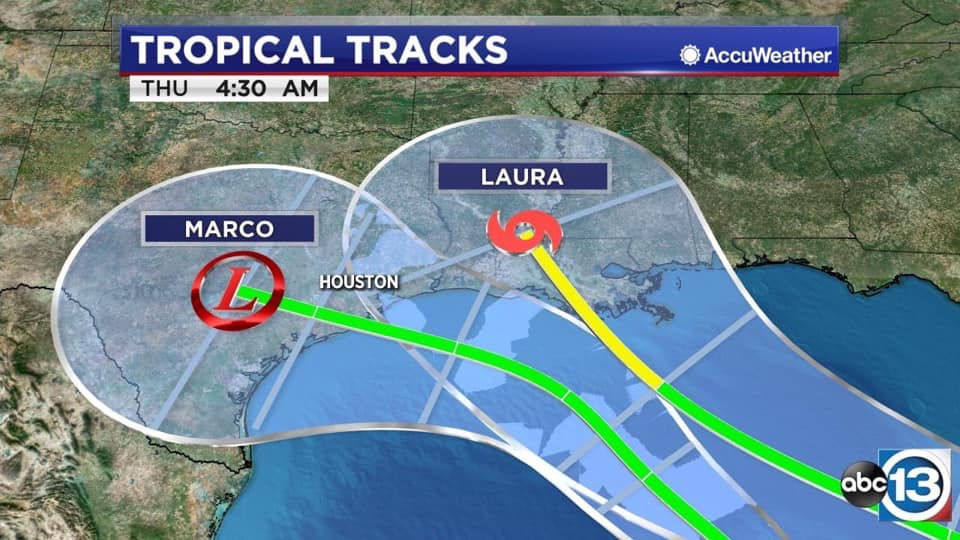 This was the most recent map of the storm paths for Tropical Storms Marco and Laura when we made the decision to postpone the contest and launch event for Sim Kern's DEPART, DEPART!
For those of you who don't know, DEPART, DEPART! is about a hurricane destroying Houston and how the crises of climate change intersect with some of our most pressing social emergencies. In light of the very real storms currently threatening the Gulf region, and the likelihood that these storms will at the very least cause mass power outages which will interfere with Internet connectivity, Sim Kern's book launch has been postponed until the storms have passed and everyone is safe.
We will post updates about the launch as soon as we have a new date. In the meantime, Kern posted about the artists who are involved in the book launch prizes. So check out their fantastic work on climate change, queer identities, and Houston:
The regional artists @ganzeer @antlerantler @MysticMultiples @antlerantler @saracress @yesmaam_zine @RubbberNecking @lisachowart + others contributed artwork dealing w/queerness &/or climate change, and I'm so excited for that giveaway once this is all over. Give them a follow!

— Sim Kern (@sim_kern) August 22, 2020
On their Youtube channel, Sim Kern is vlogging their hurricane preparations:
Post-Hurricane Update (August 28 2020)
Hurricane Laura turned away from Houston, but made landfall in western Louisiana as a Cat 4 storm — one of the strongest storms the region has seen in decades. As Sim Kern notes in the video below, its time for those who were spared to step up and help the communities who were hit.
The event which was originally a book launch is now pivoting to a hurricane relief fundraiser. The book launch main prize will be used to help affected communities on the Gulf Coast. A specific focus of the fundraiser may be relief for homeless LGBTQ youth.
We'll release more details about the fundraiser as the plan takes shape. A DEPART, DEPART! Launch event is still in the works, but will be postponed as Kern focuses on helping hurricane-affected communities recover and rebuild.
While the launch is delayed, Sim Kern's book will still be released on September 1, 2020. Signed copies are available here.