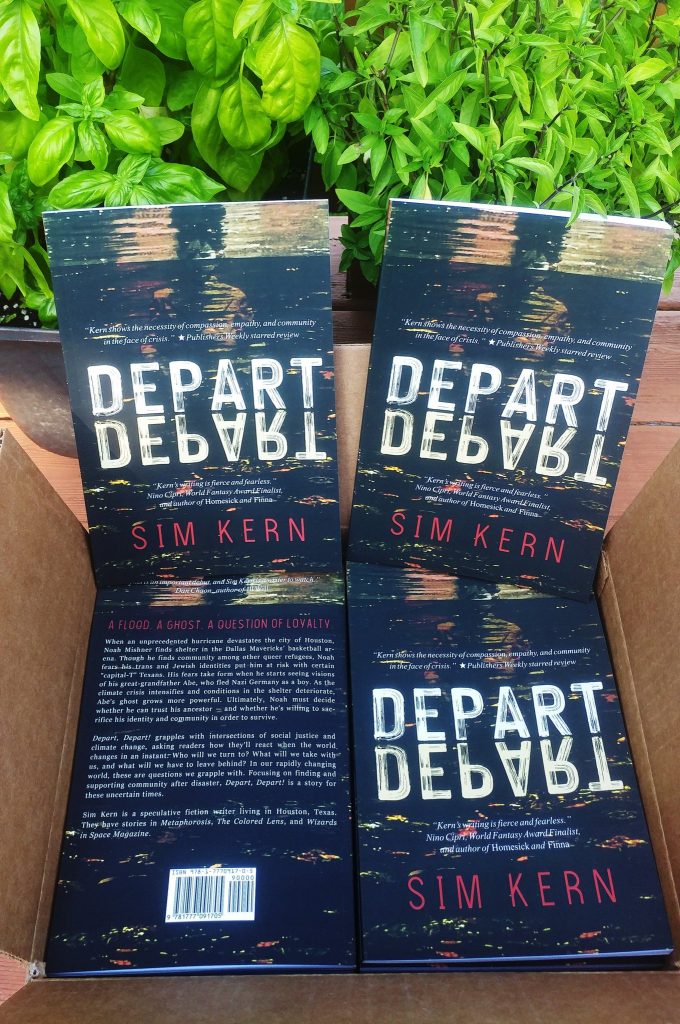 We received our beautiful printed books on Friday and spent the weekend packaging and shipping to all who pre-ordered a print copy of Sim Kern's Depart, Depart! Those who ordered an electronic copy (epub) will receive their copies this week.
There are still signed copies of Depart, Depart! available. These books are printed on 100% recycled paper and feature a velvety soft laminated cover which is a pleasure to hold. This is a limited print run, so get your copy while you can! After these books are sold out, orders will be fulfilled by Ingram. The Ingram books are also a beautiful artefact with soft cover lamination, but the interior is not printed on recycled paper as this is not an option available through Ingram.
Shipping Delays and the United States Postal Service
Up here in Canada we're hearing a lot about issues with the USPS and shipping delays. Postal service institutions, both public and private, have been dramatically affected by the coronavirus lockdown — and the huge volume of online orders — and are subsequently struggling financially. On top of this, certain political actors see this as an opportunity to further compromise the service in order to influence the upcoming election. Some information about that (including some historical context) is here, but the situation is changing rapidly, so checking in with a trusted news source is probably a good place to start. Also, if you agree that compromising the postal service in order to disenfranchise voters should not happen in the United States, please contact your representatives and let them know.
Unfortunately this means that it is possible that some Stelliform books might be delayed and/or might not make it to their destination. We are monitoring the situation and may change how we ship if needed.
Canada Post Update
Canada Post is an essential public institution and we support Canada Post and postal workers. We choose to ship via Canada Post over private carriers whenever possible. Canada Post is also experiencing delays due to the volume of packages currently travelling through the system as more people choose to stay home and shop online. But parcels will arrive at their destinations! More info can be found here.
Shipping Materials
If you order one or two books, your books will be shipped in a Post-Consumer Waste recycled (and recyclable) envelope. Whenever possible (and tape is an exception) we do not use plastic as part of our shipping process. If you order more than two books, your order will be shipped in reused or repurposed cardboard. Even as a small business, we accumulate a lot of boxes that are often the perfect size to ship multiple books. Instead of buying new boxes, we are reusing these to further reduce our consumption of paper products. We commit to using clean and structurally-sound reused packaging as part of our mission to be an environmentally friendly small business.