A Publisher's Note
Stelliform Press is a Canadian literary publisher focused on stories that challenge North American (and, more broadly, Western) attitudes toward nature. Our hope is that if we support and disseminate enough of these stories, they will help change the values and behaviours that have contributed to climate change.
To demonstrate the small ways this is already happening, we have been collecting positive stories of shifts toward relational ideologies and active environmentalism in local communities, and in wider national and international contexts. Our intention in collecting these stories was to give people some hope, to demonstrate that small-scale action can have an effect.
Then the RCMP raided Wet'suwet'en territory, arresting dozens of Wet'suwet'en land protectors in an effort to clear the way for the Coastal Gas Link pipeline. This action by Canadian authorities has since resulted in nation-wide protests, and further arrests. The settler response to these nation-wide protests — and the blockades and resultant rail shutdown in particular — has reinvigorated not only economy-over-environment rhetoric, but also racist arguments which prevent diplomacy and incite violence toward already vulnerable people. It seems inappropriate to post good news eco-stories when this is happening in Canada; but this always happening in Canada. And every other colonial state. This is the perpetual context of environmentalism in the West.
A History of Violent and Unequal Conflict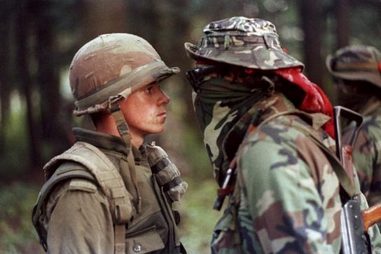 Violent and unequal conflict between the agents of "progress" and those that live in close connection to the land and want to protect it is a story Canada has told before. The RCMP raid on Wet'suwet'en has historical precedent in Unist'ot'en (a nearby camp), in Oka Quebec in 1990, when developers wanted to build a golf course on contested land, in the Ipperwash Crisis, and even close to the land that Stelliform calls home, in Caledonia, during the Douglas Creek Estates conflict in 2006. All of these incidents occurred within the larger context of the ongoing Indigenous/settler conflict that is Canada itself.
"Taming the wilderness" and "living off the land" in peace and contentment are Canadian national narratives that cannot exist without these conflicts. These narratives are predicated on the idea of terra nullius (nobody's land), a damaging myth about a land that was always alive with community and relationship. These are beguiling and false narratives, which spring from a conception of life on this continent which did not consider First Nations, Métis, and Inuit as human beings of equal value to the European colonizers and settlers. Continuing to uphold these stories as a part of Canadian identity locks us in not only to more cruelty, but also into a future in which communities and ecosystems suffer from profound disconnection and failure.
A Call to Justice
Anyone visiting this website is probably already concerned with environmental justice issues, and we hope that you will continue to challenge the stories you tell about yourselves and your nations, particularly if you are settlers. But questioning stories is insufficient action for this moment. If you have the resources, please check out the Wet'suwet'en Supporter Toolkit and do or give what you can.
If you cannot give, please speak out about what is happening in British Columbia right now, and all across Canada. Talk to friends and relatives who might have a different view of these events than you do. Write letters to the editor, call in to radio shows, and engage on social media to show your support for Wet'suwet'en and Tyendinaga. The Wet'suwet'en land protectors are defending their land, but they are also modelling justice for the rest of us.