Books We Love
P. Djèlí Clark's The Black God's Drums is fast-paced and fun, with characters that play off each other's quick-witted banter. The world created in this novella is a slightly off-kilter version of our own, with recognizable politics (where the bad guys are Confederates singing songs about Andrew Jackson) juxtaposed with airships and mind-numbing "drapeto gas" which keeps a slave economy running after emancipation.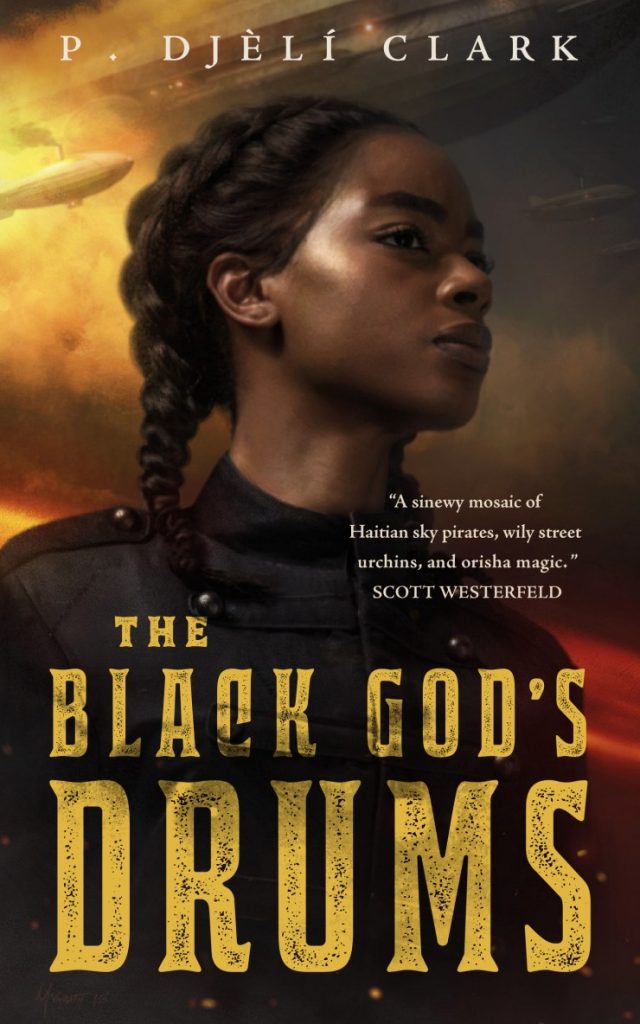 The part of this book that is so interesting to us is the orisha magic wielded by main characters Jacqueline (or Creeper) and Anne-Marie. This magic is what makes the book fantasy rather than alternate history, and it is also the element which connects the narrative so strongly to place. The Black God's Drums is set in New Orleans and of the city Creeper has this to say:
The magic of those old Afrikin gods is part of this city, ma maman used to say, buried in its bones and roots with the slaves that built it, making the ground and air and waterways sacred land.
Creeper — who has the goddess Oya residing with her and can, through Oya, sometimes channel storms — is a kind of extension of the power that Oya demonstrated in a "tempête noire" that flooded New Orleans and the surrounding lowlands. That a catastrophic storm is Creeper's origin story, and the origin story of the New Orleans that P. Djèlí Clark creates in the novella, suggests deep-rooted connections between the history of the trans-Atlantic slave trade, the future of the descendants of those slaves, and the ways in which air, land, and water are implicated in that historic atrocity which continues in altered forms. Creeper's power, and also that of the airship captain Anne-Marie (who harbours Oya's sister-goddess Oshun), is the power of "Lafrik" enacted on American soil; and the book uses orisha magic to make tangible the idea that slavery has still-unimagined consequences, consequences which are linked to land, air, and water as Creeper's maman said.
In our own world, this connection is, of course, true. The slave labour of kidnapped Black people is the foundation of Western development and Western accumulation of wealth, both of which are responsible for the West's still-rising CO2 emissions and the changed climate which we will inflict upon the world. But we mustn't imagine that the increased storms, flooding, and heatwaves are the goddesses of "Lafrik" taking their revenge as they might in The Black God's Drums. No, we must acknowledge that the effects of atmospheric warming that become more frequent and more extreme every year are the fault of no one and no thing but us and a culture that demands gratification and comfort at any cost — even at the cost of any future comforts.