We're giving away two print copies of Rebecca Campbell's forthcoming novella Arboreality to two winners in Canada and/or the United States. Don't miss a chance to read this stunning mosaic novella featuring short stories connected by a Salish sea setting and an inter-generational cast of characters.
If you're ready to sign up, head to the Rafflecopter giveaway widget at the bottom of this post. If you need more info about Campbell's book, read on.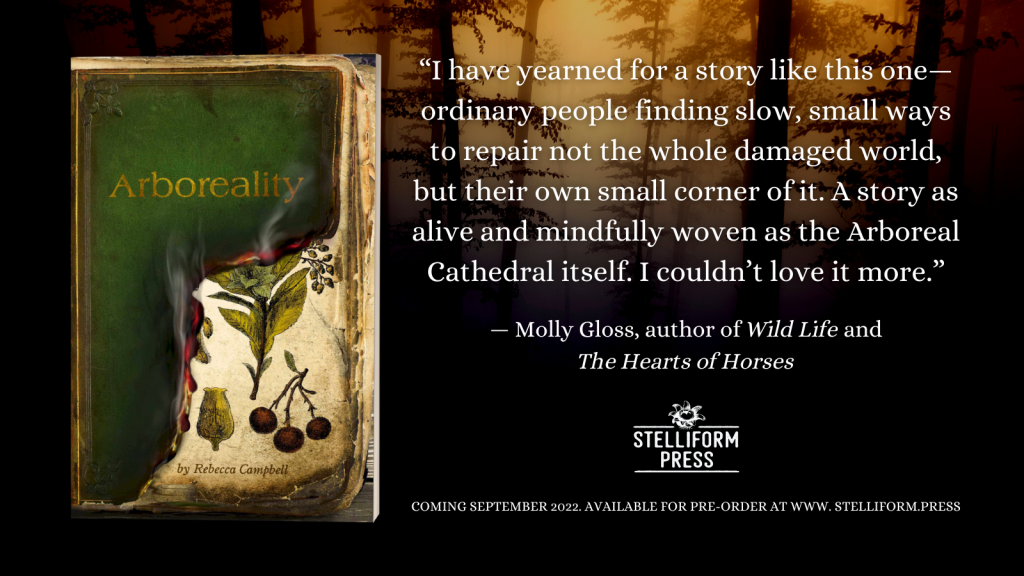 About Rebecca Campbell's Arboreality
"Campbell doesn't shy away from the worst possibilities of apocalyptic ecological collapse … but offers a surprisingly hopeful and joyful vision of the future … This compassionate cli-fi mosaic is sure to please genre fans."
— Publishers Weekly
"I have yearned for a story like this one — ordinary people finding slow, small ways to repair not the whole damaged world, but their own small corner of it … I couldn't love it more."
— Molly Gloss, author of Wild Life and The Hearts of Horses
"You'll see the world differently after reading this slender book—I dare you to come away unchanged."
— Amanda Leduc, author of The Centaur's Wife
A professor in pandemic isolation rescues books from the flooded and collapsing McPherson Library. A man plants fireweed on the hillside of his depopulated Vancouver Island suburb. An aspiring luthier poaches the last ancient Sitka spruce to make a violin for a child prodigy. Campbell's astonishing vision pulls the echoing effects of small acts and intimate moments through this multi-generational and interconnected story of how a West coast community survives the ravages of climate change.
About Rebecca Campbell
Rebecca Campbell is a Canadian writer of weird stories and climate change fiction. She won the Sunburst award for short fiction in 2020 for "The Fourth Trimester is the Strangest" and the Theodore Sturgeon Memorial Award in 2021 for "An Important Failure." NeWest Press published her first novel, The Paradise Engine, in 2013.
Sign up for the Giveaway via Rafflecopter
We've provided multiple ways to win. Click the widget below to sign up. Winners will be contacted via email and announced on social media.