Despite the fact that another hurricane is headed toward Houston, we're having a launch for Sim Kern's DEPART, DEPART!, a book about a hurricane that destroys Houston. Yes, it is too on-the-nose, but this is the reality of contemporary climate fiction. We are telling these stories in the spaces between climate crisis events.
More details about the online event are on our Eventbrite page, including how to secure either a free ticket, a ticket + ebook, or a ticket + signed paperback of DEPART, DEPART!
But we're most excited to show you the main prize for the event, which you are entered to win simply by showing up on Thursday September 24 at 7pm EST/6pm CST on Zoom.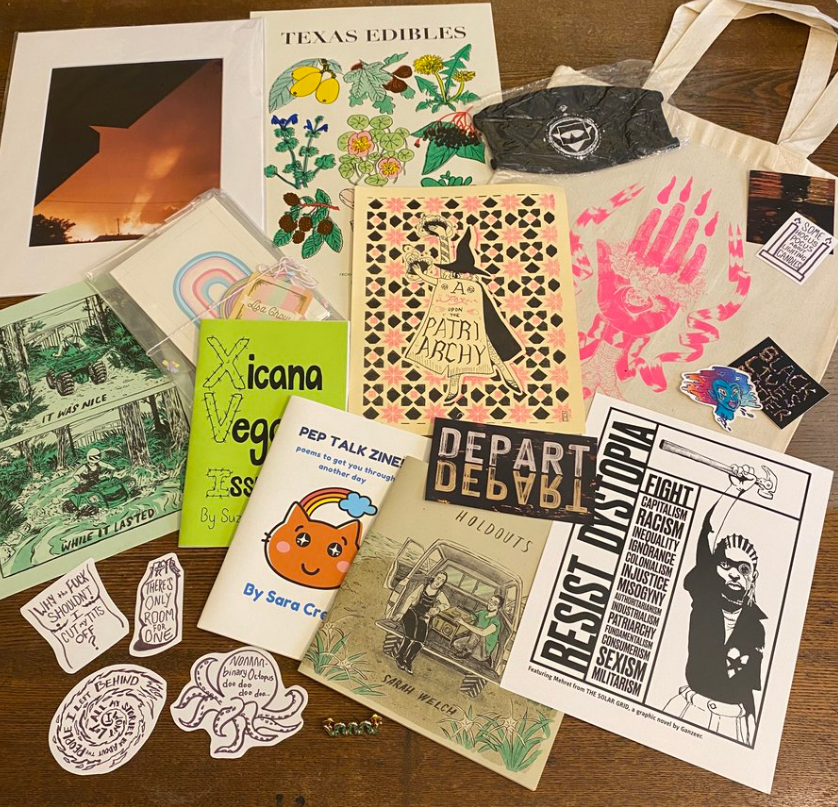 Main Prize: The Queer Climate Apocalypse Survival Kit
With any of our tickets and your online attendance at the launch event, you're entered to win either 1 of 5 ebook + DEPART, DEPART! sticker pack prizes, or the main prize ⁠— $100 worth of climate change and queer related art, zines and other goodies from Gulf Coast artists. Read on for more info on the pieces included in the Kit.
IT WAS NICE WHILE IT LASTED Print + HOLDOUTS comic, Book #1
Art and comic by Sarah Welch and @MysticMultiples ⁠— a Houston artist duo and self-publishing imprint specializing in risograph comics, zines, and prints. Much of their work focuses on climate effects along the Gulf Coast.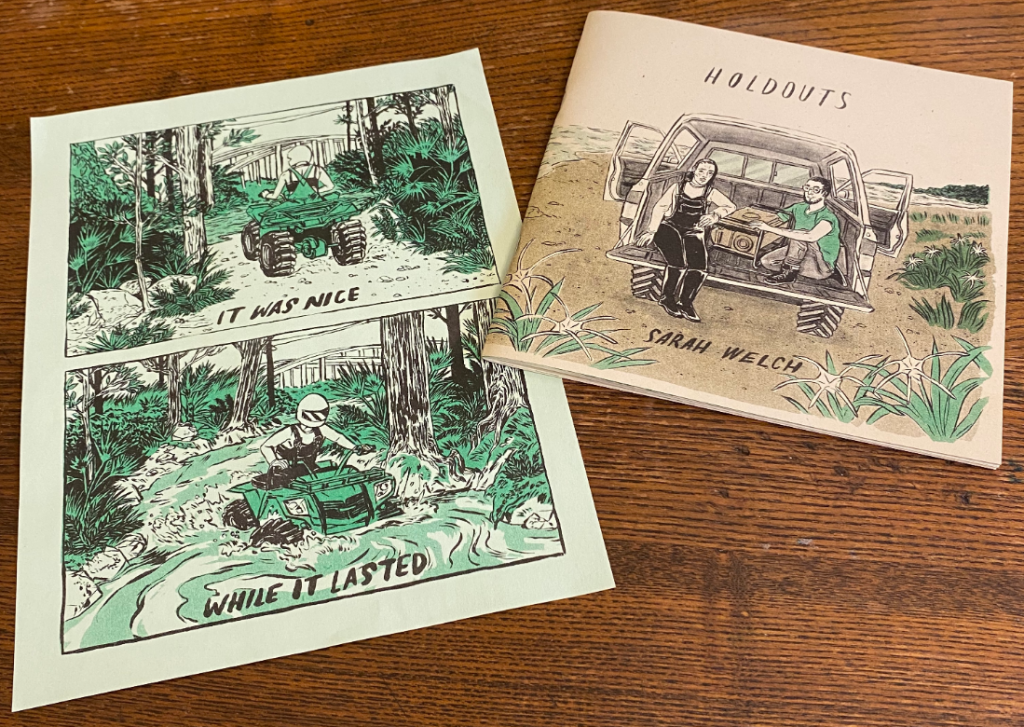 POX ON THE PATRIARCHY Print, GLORY HAND tote, sticker, & X2 SNAKE HEAD Enamel Pin
These items are from @antlerantler aka María-Elisa Heg who is a curator, cartoonist, and organizer living and working in Houston since 2005. She is currently a Curatorial Fellow at Houston Center for Contemporary Craft.
Sparkly TRANS PRIDE mini-painting, RAINBOW patch, and PAINTED LADIES Correspondence Cards
Painting, patch, and cards are from @lisachowart . Lisa is an artist, illustrator, designer and story maker living in Houston, Texas. Her work strives to connect with young viewers through humor, whimsy and a ton of sass.
RESIST DYSTOPIA Poster
This poster is by @ganzeer. Ganzeer, who gained an international following for his artwork during the 2011 Egyptian revolution, has debuted more than 40 art shows all over the world. This image comes from his graphic novel, The Solar Grid.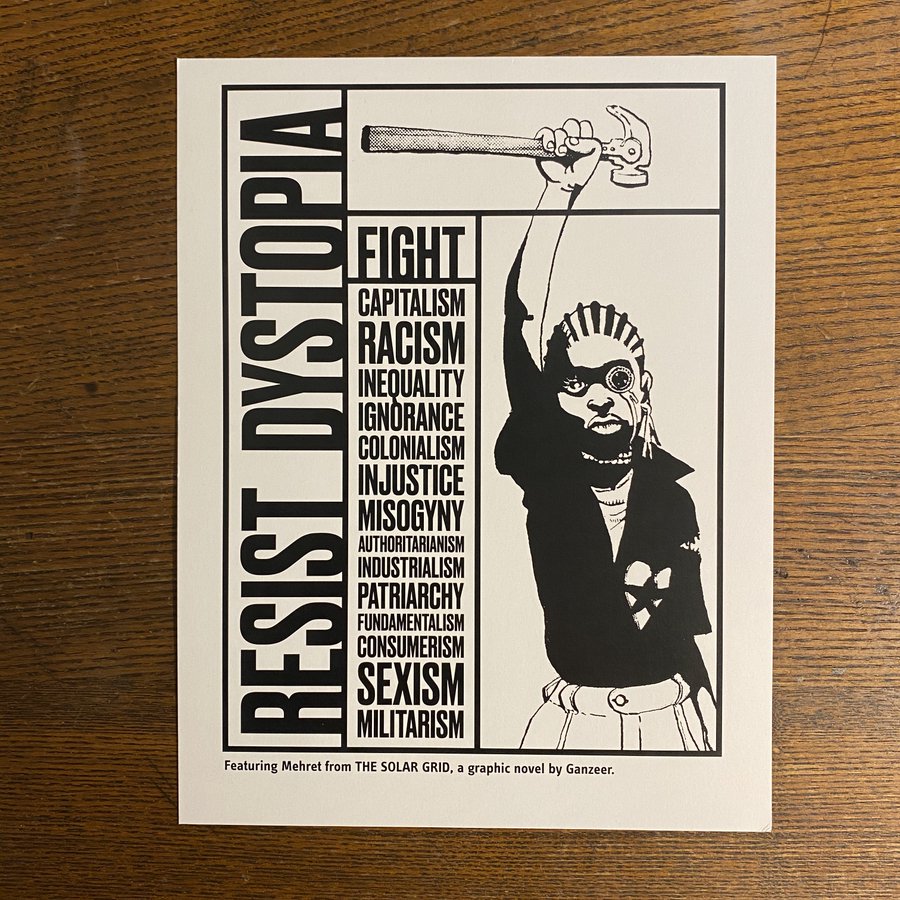 ANGELIC SEAL Fashion Face Mask
This face mask is by @RubbberNecking. Linda Mota is a Houston-based artists whose work reflect her own body issues and dreams that used to be aggressive growing up.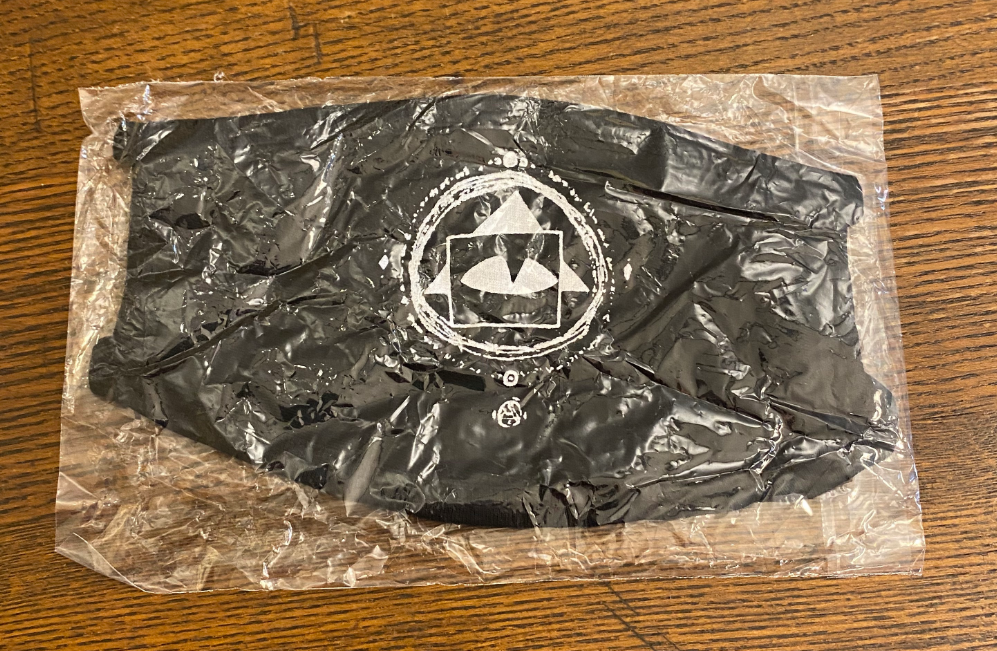 PEP TALK ZINE!
Zine by @saracress. "A collection of poems to get you through another day." Sara Cress is a writer in Houston. She writes poetry inspired by the news for a project called Breaking Poems, which can be found at http://BreakingPoems.com or on http://Facebook.com/BreakingPoems.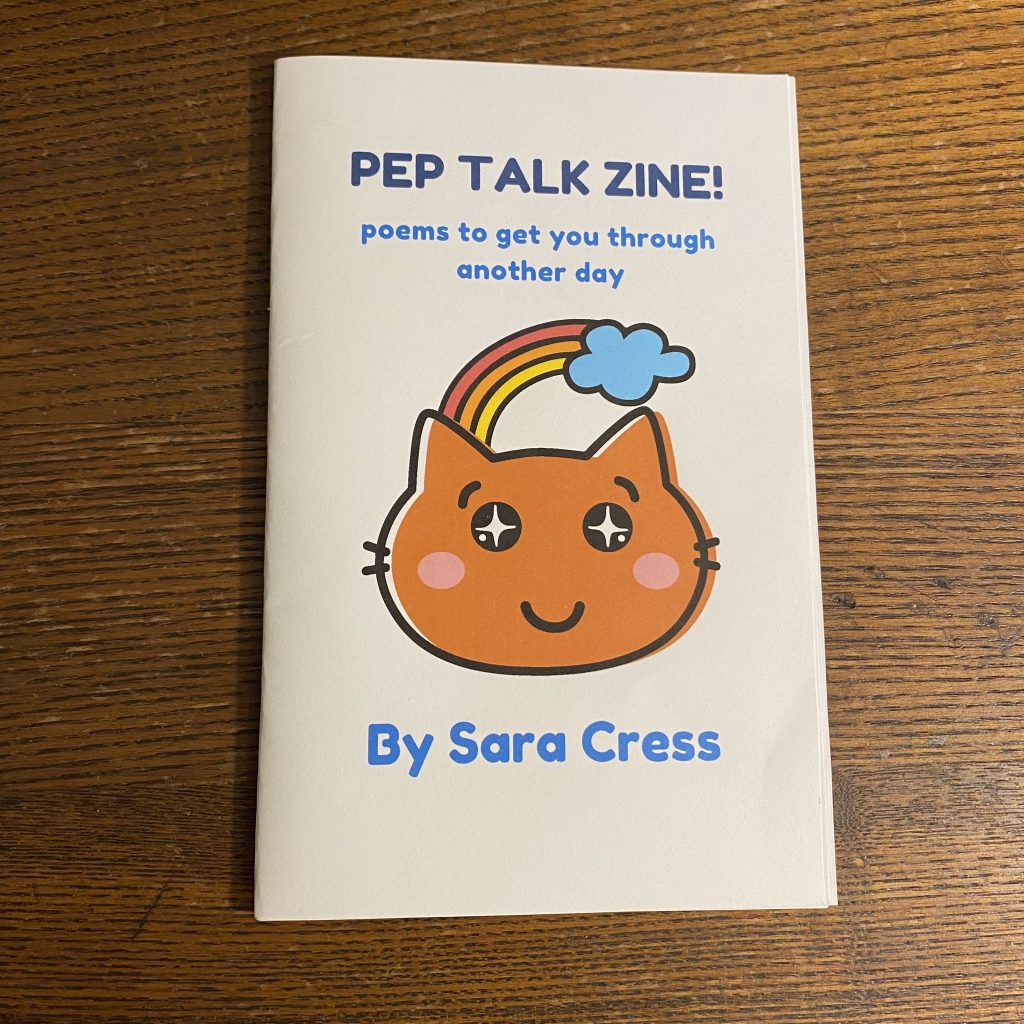 Texas Edibles Print
This print is from the Center for Imaginative Cartography & Research. The CICR is a Houston-based creative studio and Risograph press run by Emily Halbardier and Erik Sultzer. Find them at http://thecforicandr.info and on instagram: https://instagram.com/thecforicandr/.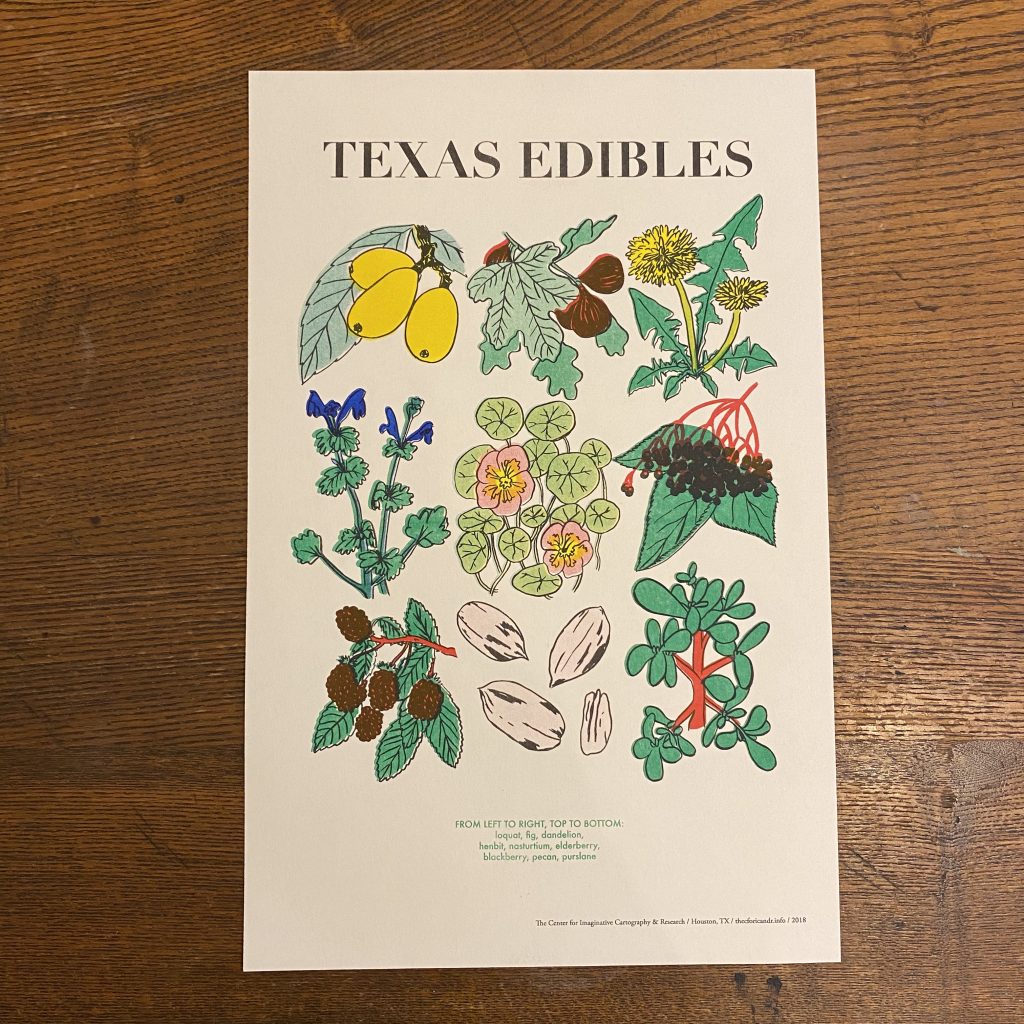 XICANA VEGAN issue #1 & BLM Floral Sticker
Suzy González is an artist, zinester, curator, and educator based in San Antonio, TX. Xicana Vegan is a zine working towards dismantling systems of power and making amazing food while doing it! Find her at: https://linktr.ee/SuzyGonzalez.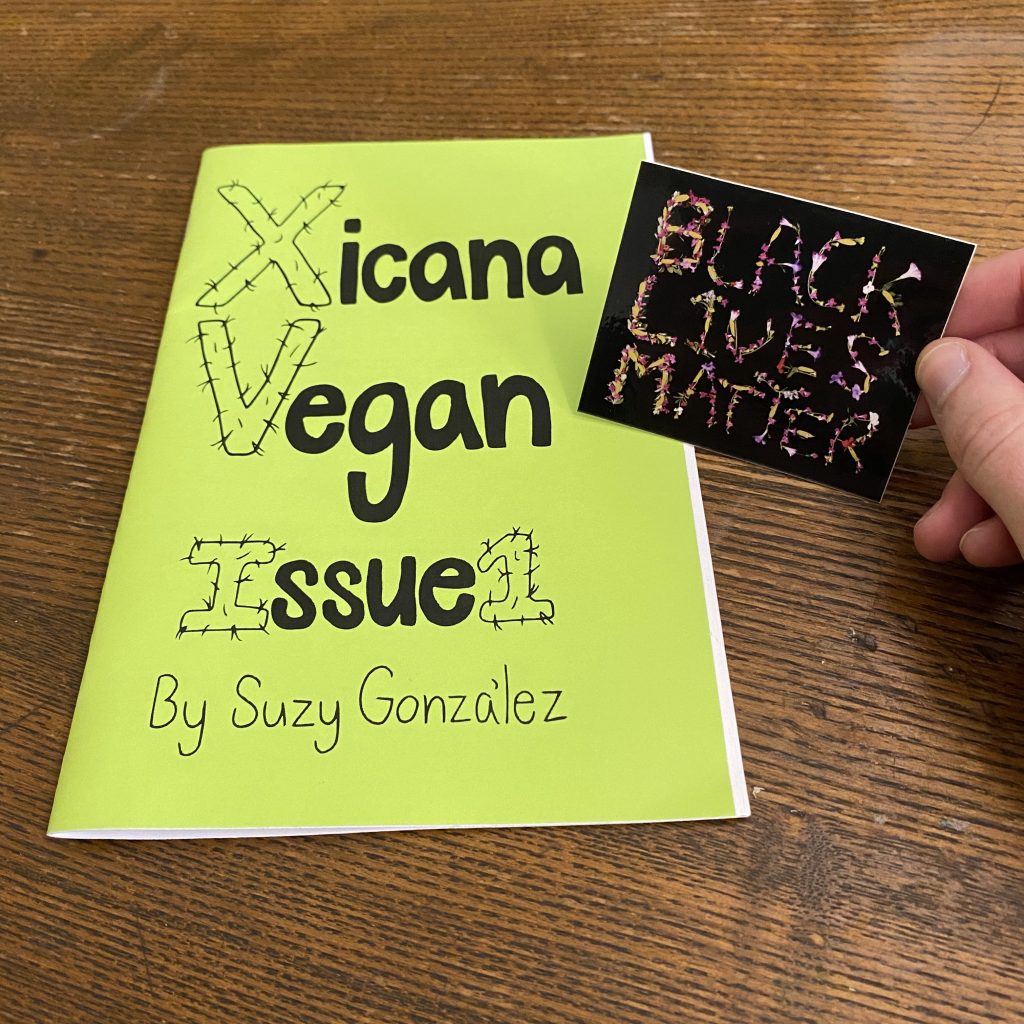 FUTURE LOOKS BRIGHT, IT'S BLINDING Poem-Print
The poem-print is by S. Rodriguez, a Texas based artist, curator, and organizer. Their work most often explores the nature of bodies, physical, digital, and linguistic. Unfortunately the print was slightly damaged in shipping. Find them on Insta: https://www.instagram.com/blve.azvl/.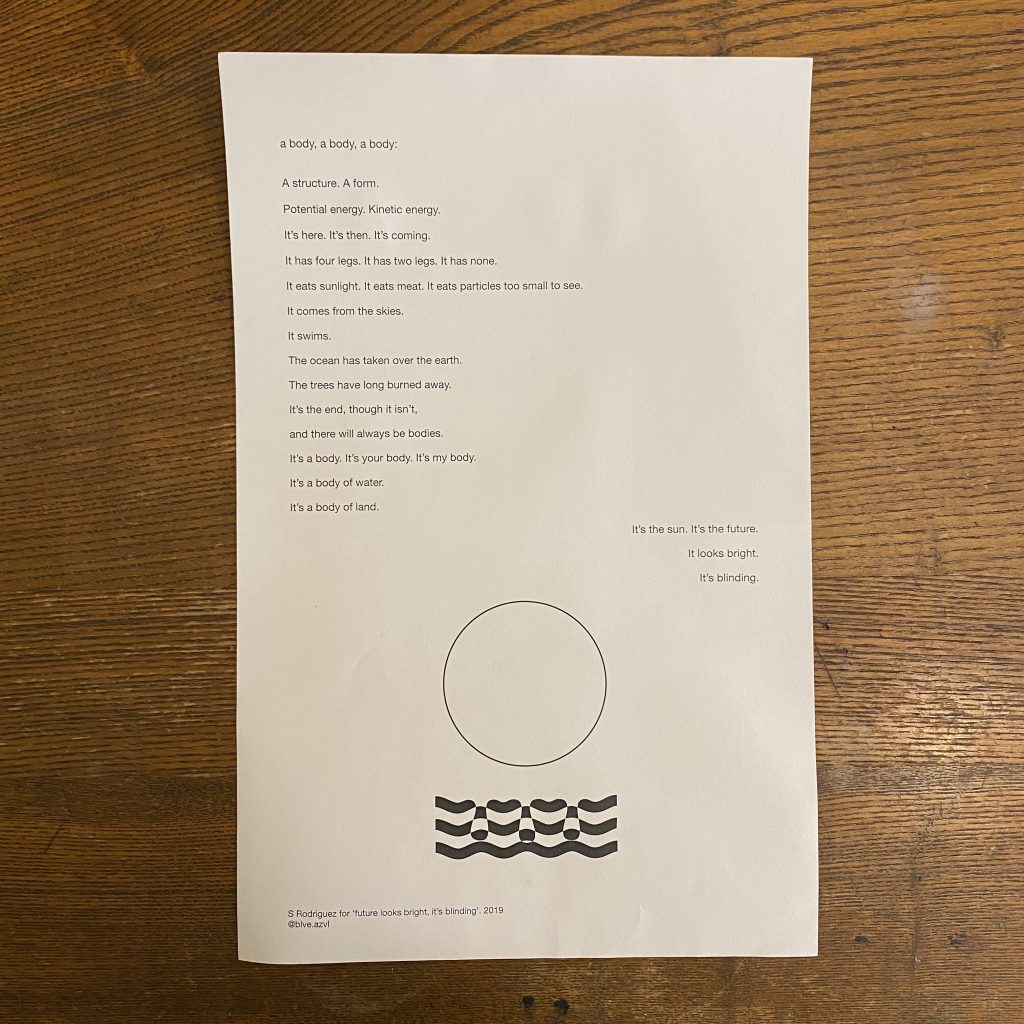 Untitled Photo Print by Ryan Francisco
Ryan Francisco is a Houston based photographer. With her body of work, she invites viewers to seek their own hidden connections within her photographs. Find Ryan on Insta: https://instagram.com/rfranciscophoto/… and the web: http://rfranciscophoto.com.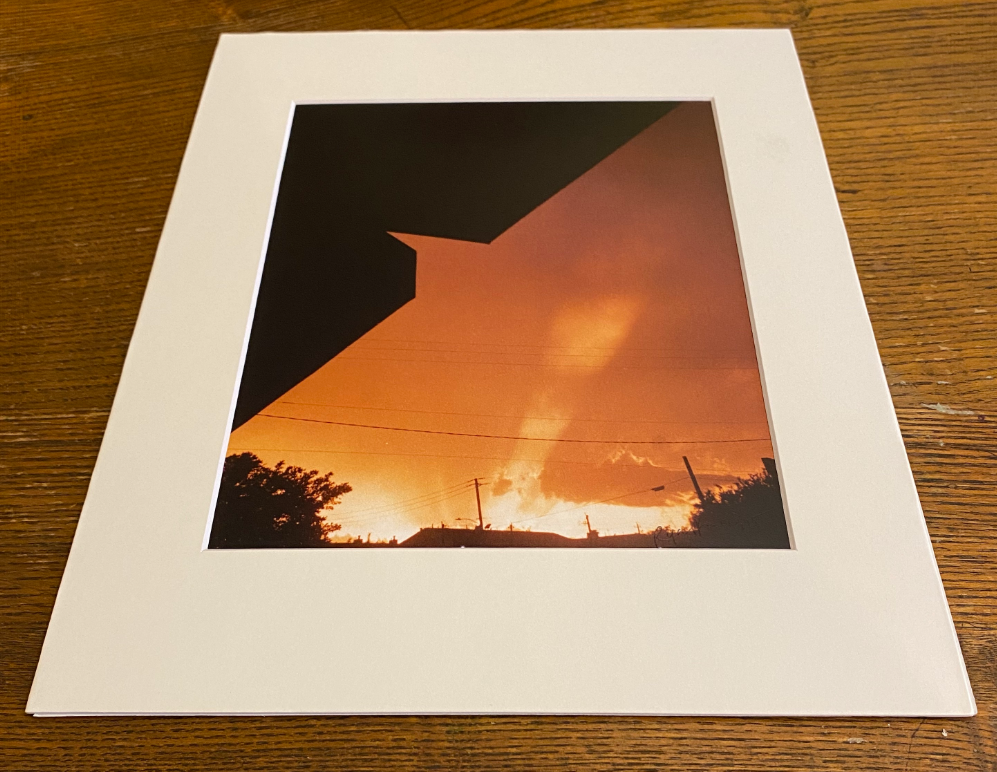 Join Us on September 24 to Officially Launch DEPART, DEPART!
We'll be chatting about climate fiction and giving away these cool prizes. Don't miss it! Click through to the Telling Climate Stories in a Climate Crisis on Eventbrite to get your tickets. See you soon!